Ehsan Awarded the National Educator Program's Top Honour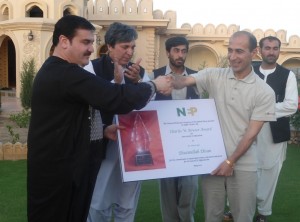 In the former capital of the Taliban, it takes courage to provide modern education to young women. For such courage, Ehsanullah Ehsan of Afghanistan was awarded by the National Educator Program in the United States with its highest honor; the Charles W. Bowser Award for Innovation in Education.
Mr. Ehsan, who serves as the Director of the Afghan Canadian Community Center and President of the Afghan Learning and Development Organization, adopted "career academies," a model of instruction from American public schools, and adapted it for his own school – the first of its kind outside of the United States. In this way, he educates his students and prepares them for the world of work at the same time.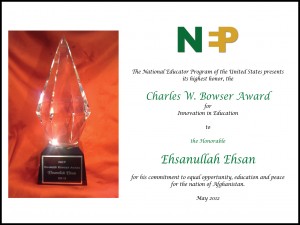 "Through this award you, the great people of the United States are honoring and respecting my whole nation of Afghanistan." Ehsan told the international audience via Skype. "You give it to the eight hundred girls who bravely come to school every day just in a hope to have a better tomorrow."
 Mr. Ehsan has helped open community learning centers in Afghanistan and Pakistan to give hundreds of young women and men equal opportunity for education, and better jobs to help their families and serve their communities.
"Democracy only works insofar as you have an educated and dedicated electorate," said Mark Thompson, Executive Director of the National Educator Program. "Mr. Ehsan is a giant in the field of education and respecting human values and that greatness must be recognized. If we could support a hundred people like Ehsan, we would be making a big difference in Afghanistan at a much lesser price. Upon receiving the Bowser Award, Mr. Ehsan becomes only the third to hold it, and the first recipient who is not American."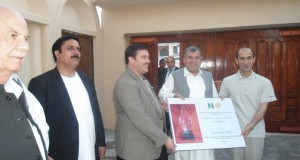 During a re-awarding ceremony, Ubaidullah Obaid, Minister of Higher Education of Afghanistan said to media in Kandahar, "I am pleased to re-award this honor to Mr. Ehsan for his hard work in providing education services to Kandahari men and women. The NEP in the United States of America through this award honors the whole nation of Afghanistan."
Dr. Toryalai Wisa, the Governor of Kandahar said, "Mr. Ehsan's role and commitment to fostering education services in Kandahar is highly commendable and we thank NEP for honoring him with this high honor." The governor added, "There are several private education institutions open in Kandahar, but their services have not been as effective as the Afghan Canadian Community Center's. The ACCC has served so highly that a large number of its graduates are serving in different government offices and that's what we really need today. I believe we should support this community learning center to continue its training services."
On the occasion, Mehmood Karzai, the President of the AFCO International and brother of President Karzai asked governor Wisa to help invite local and international organizations to give donations for the construction of a campus building for the ALDO/ACCC.
 The National Educator Program's video presentation of the 2012 Charles W. Bowser Award: