Former Student Maryam Naqibullah Launches 'Dare to Learn' Fundraising Campaign
I am thrilled to announce that this year's fundraiser will be run by Maryam Naqibullah, a former student of the Afghan-Canadian Community Center now living in Canada.
This campaign could not have come at a more important time – government funding for the Afghan-Canadian Community Center and its sister organization, the Kandahar Institute of Modern Studies, came to an end earlier this fall. I regret to say that, without renewed support from our donors or from the Government of Canada, ACCC / KIMS will be forced to close within a few short months.
Please read below for a letter from Maryam about this campaign. If you'd like to help, we'd encourage you to donate or to write your Member of Parliament via our easy-to-use online tool.
---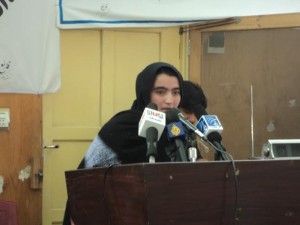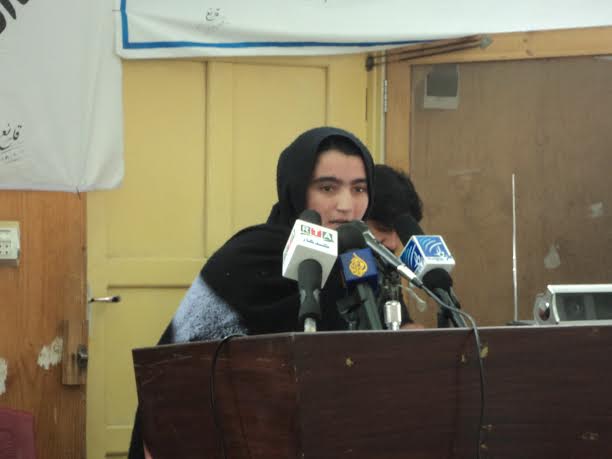 My name is Maryam Sahar Naqibullah, a 21-year-old female and former Afghan interpreter for the Canadian Forces in Kandahar, Afghanistan. I now live in Ottawa studying for a double major in International Relations and Security at Carleton University. As the first member of my family to achieve literacy in any language and attend university, I owe a tremendous amount of gratitude to the Canadian people (through the Canadian Government) and the Afghan-Canadian Community Center (ACCC) in Kandahar where I was educated.
As the youngest and only female interpreter for the Canadian Forces, I was granted permanent residence in Canada in 2011 as part of the Afghan Interpreter Immigration Program. I was accepted into Carleton University in 2013 and attend part time while juggling numerous other commitments that include working as a learning advisor for the Ministry of Defence.
I am testament to the success of the Canadian mission in Afghanistan and the critical importance of educating women. I was raised in Afghanistan during the time of the Taliban and was only able to attend schools like the ACCC and get educated because of the Canadian mission. I hope to return to Afghanistan and play an active role in politics continuing the work started by Canada to improve the life and opportunities of Afghan women.
The ACCC was started in 2006 with funding from individual Canadian donors and the Canadian International Development Agency. The school has been educating women in Kandahar with the help of the Canadian International Learning Foundation and the Southern Alberta Institute of Technology. As the only girls' school it provides over 1,100 women students in Kandahar a shot at creative and innovative skills and employment-oriented education in Business Management, Communication, Information Technology and English language training.
The skills that women in particular obtain at the ACCC help them enhance their roles in Kandahar's communities, increase their participation in social, political and business activities, and improve their political and socio-economic standing within Kandahar's deeply conservative society. After women graduate from ACCC, their capabilities and skills allow them to make independent decision, secure better employment and provide the key necessities of life not just for themselves, but for their communities and families as well. In return, women have an increased role and influence in both social and political life in the society.
People from different age groups and backgrounds have benefited and continue to benefit from ACCC's educational programs. The students come from local high schools, universities and from various communities in Kandahar. To some women, the ACCC is the only school they can turn to if they want to learn new skills currently in demand by civil society and local economy. To others, it is the only education they receive.
Since ACCC opened, more than 2300 women graduated. Over 700 graduates have secured employment or promotions, providing a source of livelihood for an estimated 14,000 Kandahar residents. Most of the women working in professional jobs in Kandahar are graduates of the ACCC. Around 180 women were enabled to secure scholarships and study at English medium universities both inside and outside Afghanistan. The reality is that none of these accomplishments would have been possible without the success of ACCC.
ACCC is the largest community learning institution in southern Afghanistan that has been able to regularly attract and keep large numbers of women students, who risk themselves to get education and modern skills outside their oppressive home environments. The skills taught by ACCC greatly improve graduates' leadership, confidence-building, public speaking, critical thinking, and employment prospects. The model that ACCC utilizes is both simple and effective – it is a technologically savvy, internet-enabled community educational institution managed within Kandahar existing cultural and traditional values and led by the local community, supported by a wide range of international volunteers and NGOs.
International support from volunteers and NGOs allows the institution to access modern teaching facilities such as online courses, innovative ideas and technologies. These technologies and cross-cultural interactive environment help students obtain hope through interaction with other likeminded students, teachers and people, both inside and outside Afghanistan.
The ACCC owes its existence to the sacrifices of the Canadian people and the Canadian heroes. My parents have always told me that there is one country that has supported and still supporting my dream of getting a higher education and that's Canada and its kind people. I was given the chance to live a peaceful and prosperous life by virtue of the ultimate sacrifices paid by the Canadian men and women in uniform who served in Afghanistan. I know that their spirit lives on forever in the legacy of honor, dignity and integrity that they left for the Kandaharis and institutions like the ACCC.
The closure of ACCC would be a significant loss for the Kandahar community, for women's rights, and international reconstruction efforts. Over 1,100 women are fearlessly defying deep-rooted taboos/unquestioned traditions and are changing shame for freedom and disgrace for opportunity. They fearlessly risk their lives for an education because an education is more necessary for them than water, food and clothes. Without the ACCC these women would no longer have the opportunity to receive the education they need to earn a living for themselves and their families. Afghan businesses and non-government organizations would be denied access to a significant source of professionally trained students.
When I was student at the Afghan Canadian Community Center I realized that all students had one common fear; 'If Canadians stop funding our school, where will we learn?' Please don't let that fear come true. If Kandahar loses the ACCC then the sacrifices made by the Canadian forces will have been in vain. More than 1,100 women are putting education ahead of personal safety, food and water; please show them Canada's support by preventing the closure of the ACCC.
Please consider donating to my 'Dare to Learn' Fundraising Campaign, which will raise $10,000 this December – enough to fund a class of 25 students. I plan to raise $100,000 in total for the ACCC over the next year. I would also encourage you to please consider writing your Member of Parliament via our easy-to-use online tool to ask for their support for our Women's Skills for Rights and Empowerment grant application.
Thank you for your time and consideration of this vital Afghan school for women and thank you for providing me the opportunity to a life that all Canadian girls expect.
Sincerely,
Maryam Naquibullah