A Letter from Maryam, the former Kandahar student leading our 'Dare to Learn Fundraiser'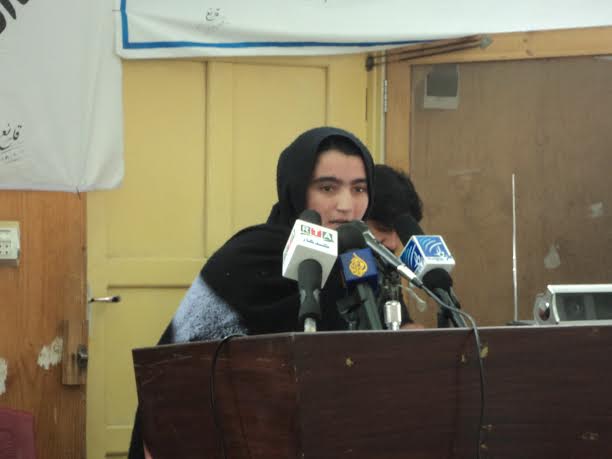 The first school I attended had no building, no desks, and no books. We sat outside and huddled around a board that leaned against rocks. Every day that I attended school, I was at risk of being attacked by the Taliban, but I loved learning, so I went to school anyway. I worked very hard and I learned to read and write in Afghanistan's two official languages, Pashto and Dari.
I excelled at all subjects and fortunately, when I was 13 years old, I had the opportunity to attend school at the Afghan-Canadian Community Centre (ACCC), so I could learn English and how to use computers. I knew that this modern school was my best chance to give me the skills I needed to make change in my country. I wanted more than anything else for women's equality in Afghanistan to become a reality.
The opportunity to help Afghan women came to me sooner than expected as I was hired by the Canadian Forces to interpret for Afghan women within less than a year. I was putting my life at risk by choosing to work for the Canadian Forces because the Taliban had been very clear that any Afghan working for NATO would be killed. Â I put my fears aside and chose to work for the sake of a better future for Afghan women.
Through my work as an interpreter for NATO, Canadian development officers were able to hear directly from Afghan women for the first time, and were therefore able to direct financial aid to areas where it was most needed. I oversaw gender projects, and provided interpretation for training sessions, interviews, conferences and female councils, throughout Kandahar.
Because of the ACCC's education program for women, their work enabled me to improve the lives of women in Kandahar, and now, I am living in Canada, studying political science and international relations at Carleton University in Ottawa. After I complete my education in Canada, I will return to Afghanistan where I plan to serve my country as a politician who improves the lives of all Afghans, including women.
The ACCC has made achieving my dreams possible, and it has done the same for thousands of other Afghan women. It has changed their lives for the better by giving them options and opportunities. We can have careers, become entrepreneurs, earn our own money, and support our families, all while instilling in the next generation the value of education and hard work.
Last year 2015, I launched Dare to learn Campaign to raise $100.000 for the school and I was able to raise $50,000 with generous support of Canadian public to keep the school open for a while until Canadian government made their decision but unfortunately they refused to fund the school. I still want to hit the goal of $100,000 and would highly appreciate any generous support to the Afghan Canadian Community Centre to make sure Afghan women keep getting education.
To help, please donate here:Â https://www.canadahelps.org/en/pages/dare-to-learn/
Sincerely,
Maryam Naquibullah