About Us
The Afghan School Project is an international volunteer initiative to support the Kandahar Institute of Modern Studies (KIMS), a professional educational institution in Kandahar, Afghanistan. KIMS provides hundreds of women women and men with the opportunity to receive education in Business Management, Information Technology, English and Communications, while providing members of the community with access to the Internet and online classes from Canadian and international institutions.
The school's programs provide students with the skills needed to obtain employment to support themselves and their families, improve their communities and participate in the reconstruction of Afghanistan. The skills taught at KIMS are in high demand by international development agencies, local businesses and the Afghan government.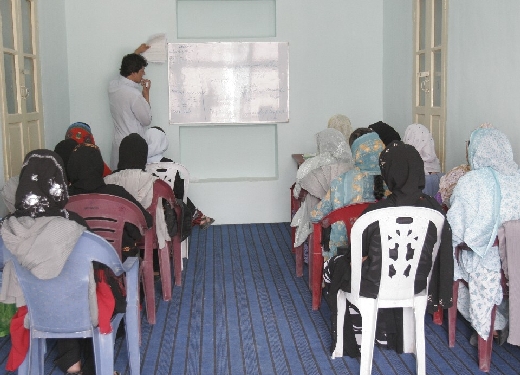 History
The Afghan School Project was initiated in 2006 when Ryan Aldred, President of the Canadian International Learning Foundation (CanILF), reached out to Afghan educator Ehsanullah Ehsan to establish the Afghan-Canadian Community Centre (ACCC). Over the course of five years, the ACCC enjoyed tremendous growth with substantial help from the Government of Canada and other international donors. In 2012, the ACCC changed its name to the Kandahar Institute of Modern Studies (KIMS) in order to reflect the local nature of the instruction and to move itself towards official accreditation from the National Afghan government.
The Afghan School Project recruits online volunteers from across the globe to provide assistance to KIMS in the form of fundraising, curriculum development, and assistance with professional development for instructors.
Although KIMS has only been open since early 2007, almost 600 students have graduated from professional programs and more than 500 students have already obtained employment or promotions as a result of this training. As of early 2012, close to 900 students are enrolled in professional courses and continue to upgrade their skills through KIMS instruction. Employed KIMS students and graduates each support 6 family members on average, which means that the Institute has helped change the lives of more than 7,000 people in Kandahar.
The vast majority of KIMS expenses are paid for by small donations made by generous individuals in Canada and around the world, and through a capacity building grant provided by the U.S. State Department. Afghan women attend KIMS at no cost, while most of the male students pay modest student fees to cover the cost of their teachers' salaries and support the Women's Program.
Donations and Partnerships
Your help is urgently needed to allow students in Kandahar to receive valuable professional education from KIMS. When it can cost less than US$10 per month to provide a student with professional education, you don't have to make a big donation to get big results. Your investment will play a very important role in helping students in Kandahar create a better life for themselves, their families and their community and to help create lasting peace and prosperity for the Afghan people.
To help, please visit our Donate Section. Tax receipts are available for eligible Canadian donations.
International Support
The Afghan School Project is a project of the Canadian International Learning Foundation, a registered Canadian charity managed by a group of volunteers based in Ottawa, Canada. All staff members work on an unpaid basis, and receive no compensation for their work. The volunteers provide professional development for educators at KIMS, and also assist with fundraising, communications and curriculum development. Unless otherwise requested, 100% of all donations and grants are used to pay the cost of operating KIMS.