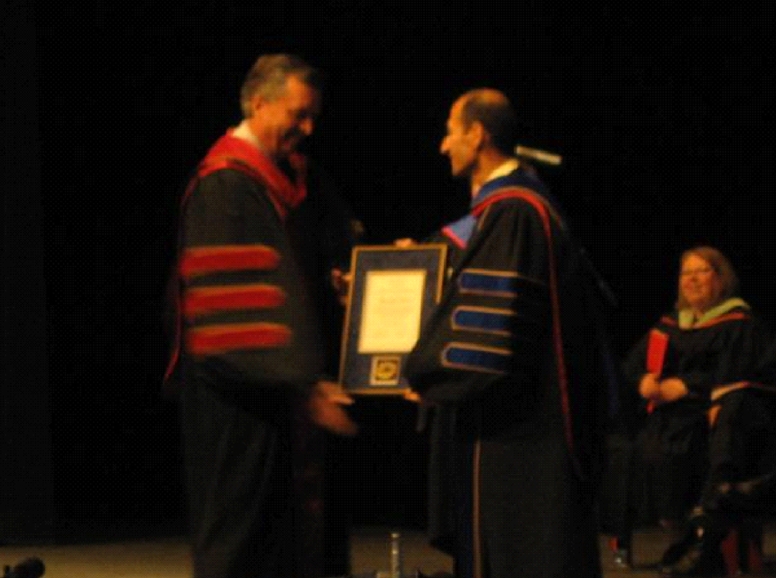 ACCC Director Ehsanullah Ehsan receives an honourary degree from the Southern Alberta Institute of Technology
Ehsanullah Ehsan, Director of the Afghan-Canadian Community Center, was awarded an honourary degree by the Southern Alberta Institute of Technology on June 2nd in recognition of his contribution to women's education and human rights in Kandahar. In his acceptance speech, Ehsan delivered a moving tribute to those who had helped him to create the Afghan-Canadian Community Center:
"Through the support provided by SAIT, the Government of Canada and the Canadian people, we have given people hope for a better future. We have created what has been called 'an oasis of decency and civility' – a place where women and men alike can go to discuss, explore, understand and learn. The sight of beautiful Afghan girls glued to computers and books at the Centre is a symbol of the drastic social change taking root in Afghanistan. Everyone at SAIT should be very proud of what they have helped to create.
You – the great people of Canada – have shown incredible generosity in supporting my country and my educational initiatives. Individual donors and the Government of Canada have made significant contributions through the Canadian International Learning Foundation's Afghan School Project, and through the Canadian International Development Agency. With this generous support, we are proudly moving the Afghan Canadian Community Centre – and the people of Afghanistan – toward self-sustainability and gender equality."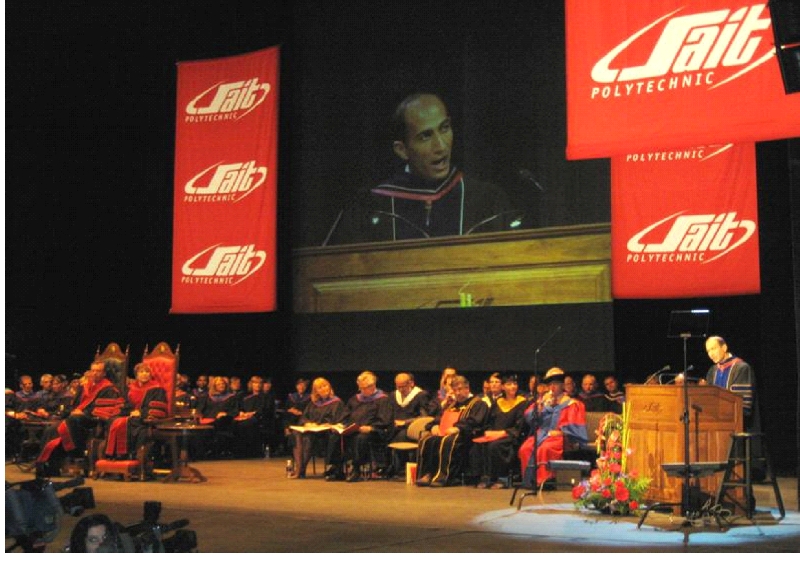 Ehsanullah Ehsan delivers his acceptance speech
He also had his own words of wisdom to pass along to the SAIT graduating class of 2009:
"By receiving the knowledge imparted to you by your teachers, you have been entrusted with a sacred gift, one that few people in this world have the opportunity to receive. The importance of this knowledge cannot be over stated – it empowers men and women alike to support themselves, their families, and improve their community. Knowledge is the backbone of society, and the key to peace and prosperity.
I hope that you will use this gift to realize your dreams – and to help others realize theirs. As one of the keepers of the sacred gift of knowledge, you have a remarkable opportunity to share this gift and, by doing so, to save humanity from the threat of oppression, war and deprivation. I urge you, as citizens of the world, to use this knowledge not only to benefit yourselves, but to also create hope for those who would learn, if only given the chance."
To view the speech in its entirety, please click here.
Ehsan also collected certificates on behalf of the ACCC students studying at SAIT, who were unable to make the trip to Canada for security reasons. Ehsan has since returned to Kandahar, and will soon be holding a ceremony to present the first cohort of SAIT students with their academic certificates.
Ehsan's visit to Calgary was covered by numerous media outlets, including Global National, the Toronto Star, CBC, the Calgary Sun, the Calgary Herald, Canada AM, and the Winnipeg Free Press.
The Afghan School Project would like to thank everyone at SAIT, CIDA, and the Government of Canada who made his visit possible. To help us offer life-changing education to a greater number of women in Kandahar, please Donate.