As Canadian and U.S. malls fill with teenage girls looking for just the right prom dress, women and girls in Kandahar have just crossed a stage of their own. Two hundred female students graduated on March 10th from the Afghan-Canadian Community Center (ACCC), a 1500-student educational institute supported by the Canadian International Learning Foundation, a registered Canadian charity. The school and many individual students are sponsored by Canadian donors as well as the Canadian and U.S. governments.
Maryam was sponsored by donors through the Canadian International Learning Foundation's Adopt a Student program. The 19-year old lives in Kandahar with her mom, sisters and brothers. "It is not easy to get an education for Afghan women, especially in Kandahar city, but we didn't give up," says Maryam. "All the students are really happy. My family is really proud."
More than 600 people attended the graduation ceremony, including family members, senior Afghanistan government officials and local media. They helped the graduates celebrate an accomplishment that for many women was beyond their wildest dreams. "Until recently, receiving this type of education was something few women in Kandahar could experience," says Ryan Aldred, President and Co-Founder of the Canadian International Learning Foundation, based in Ottawa.

Sixteen of the 200 ACCC graduates received a certificate of achievement in Business Management from SAIT Polytechnic. The Calgary-based post-secondary institute has partnered with the ACCC since 2007. "The students have been logging into SAIT courses just as a Canadian student would, except they are doing it from a desk in Kandahar," says Gord Nixon, Vice President Academic at SAIT Polytechnic. SAIT sent caps and gowns for the 16 students to wear.
Gifts of kitchen sets, stationery, clocks, shoes, clothes, school bags and teapots were distributed among the participants. These had been generously donated and prepared by UNHCR and ISAF. Â The graduates and guests also enjoyed refreshments, all of which were arranged by the ACCC and its student contributions.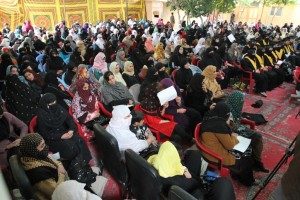 ACCC school in Kandahar has 1,500 students (most of whom are women). Audience looks on as hundreds of female students graduate.
Sponsoring a future graduate takes just $15 per month on average, depending on the course. With a third of the 200 female graduates already securing employment, the investment is clearly life-changing.
"The students are in demand by international development agencies, local businesses and the Afghan government. It gives the women the chance to support their families and be part of the reconstruction of Afghanistan," explains Aldred. "From past years we know that employed graduates are financially supporting an average of five family members. Not only does that mean a better life for the women and their families, but it also helps to slowly show the community the value of women and of women's education." 

"These results are thanks to the continued support provided to us by the benevolent people of Canada and the very generous financial assistance given to us by the Canadian government through the Canadian International Development Agency (CIDA). The U.S. Department of State has also supported English and leadership courses," says Ehsanullah Ehsan, Director of the ACCC.
The ACCC started in 2007 with a small group of students and the help of the Canadian International Learning Foundation. Today, it is a respected institution with 1,500 students, most of whom are female. Students receive an education in business management, Information Technology, English and communications. More than half the ACCC's funding is provided by the Canadian government through CIDA. That funding will continue until September 2012. Individual donors sponsor students like Maryam.
To learn more or to donate to send a Kandahar woman to school, visit the Canadian International Learning Foundation's website at www.canilf.org.
Media Contact
Robyn Crawford
Canadian International Learning Foundation
Mobile: 403.650.4608
[email protected]
www.canilf.org